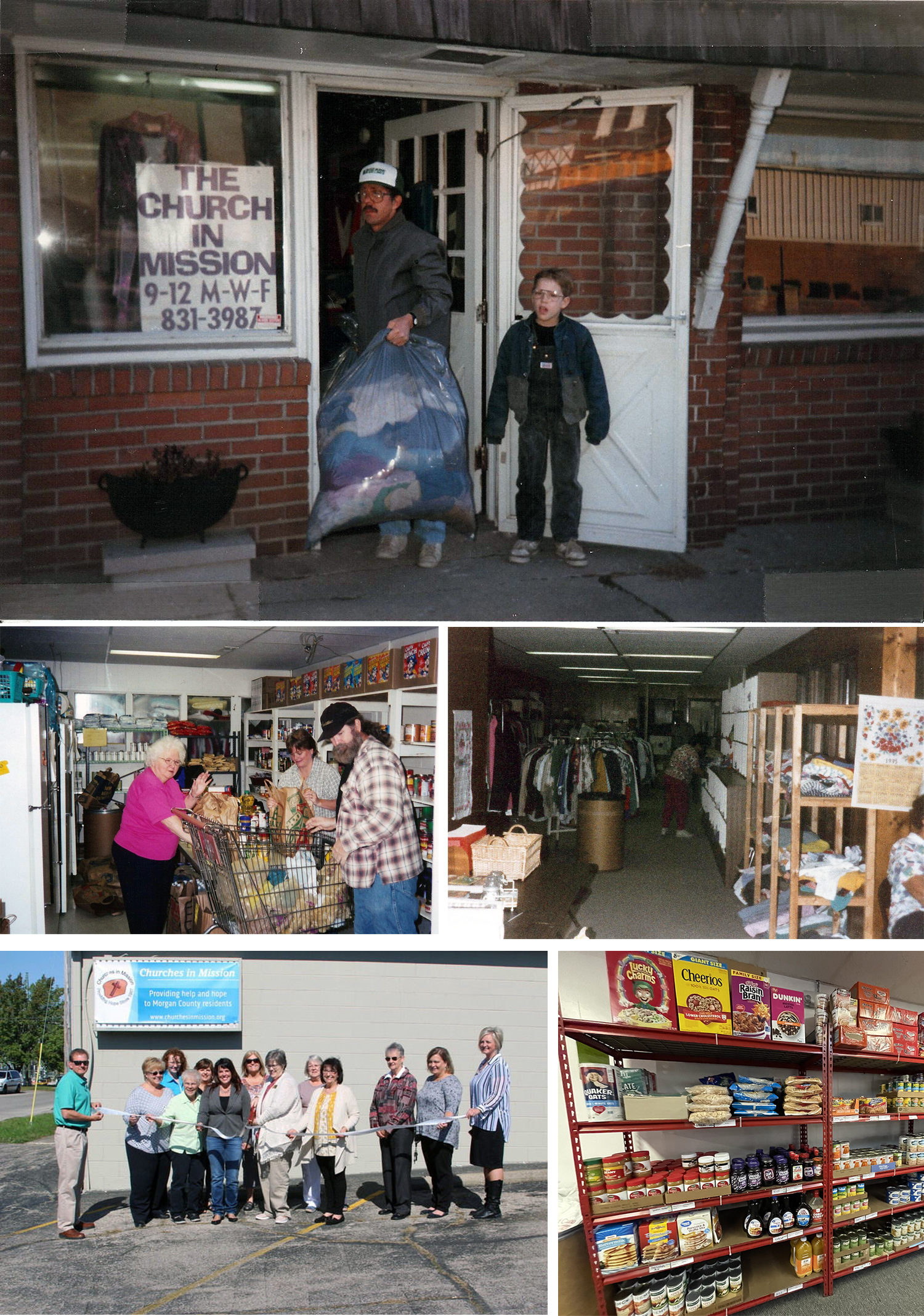 In 1987, three Mooresville ministers began meeting with some of their church members to see how they might provide more effectively for those in need by working together. In October of that year, they opened Churches in Mission at 27 S. Indiana St., Mooresville.
Since that time, Churches in Mission has grown from helping 200 families in Mooresville to serving more than 1,900 families per year across Morgan County. In January 2015, the organization began Hope House Programs to provide an opportunity for families and individuals to learn the necessary skills to thrive and succeed in life.
In October 2015, Churches in Mission expanded its ministry and services to Martinsville, becoming a county-wide agency. Within a few short months, the Martinsville office had already been outgrown and needed expansion. A very gracious donor made it possible for Churches in Mission to purchase a new building in Martinsville, which opened in October 2017.
Churches in Mission continues to provide the necessities for daily living to the people of Morgan County who struggle with the challenges of poverty while sharing its love of Jesus Christ. In the process, it has brought churches, businesses and communities together as we all work for the good of our neighbors.
Almost 90 percent of the households Churches in Mission serves live at poverty level or under, and 55 percent of those live at less than half of poverty. Yet, while families can get assistance with food and clothing each month, most come fewer than four times a year.
These bits of help make sure children can have a decent meal – some proper nutrition to get them through the week – that they have enough clothes to wear to school without repeating an outfit within the week, and electricity to keep them warm. It means the elderly in the community can afford both food and medication and those sleeping under the bridges can get warm blankets and some nourishment.
We are a non-profit organization governed by a Board of Directors with representation from supporting churches and the community. Our partnering churches and organizations support us by providing monetary donations, representation on our governing board, provide donations and volunteers and help with other programs and services.
Acts of Assistance
in 2020
1,926 Morgan County households were served with food orders, clothing, and rent/utility assistance.